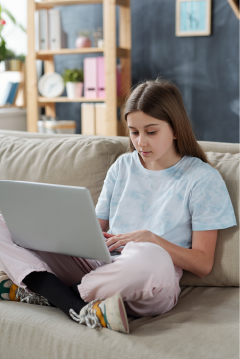 This Youth Intensive Outpatient Program (IOP) is an online therapeutic program for teens who are struggling with mood or anxiety disorders such as (but not limited to) depression, anxiety or panic disorders and are looking to manage or alleviate their symptoms.
This IOP provides a supported and structured treatment experience that allows teens to develop coping mechanisms, understand their mental health and make meaningful changes to their actions and life.
In this virtual program, teens can:
Receive education from leading experts in youth mental health
Track progress through the Wagon app
Get support in a safe and non-judgemental space
Connect with individuals with similar experiences

Learn to identify triggers that can lead to unhealthy thoughts or behaviors

Develop skills to counteract negative emotions

And maintain their regular schooling and homelife throughout the program
Make Progress Together
Mental health affects the whole family. That's why EHN Online's Youth IOP includes a complimentary program for caregivers. Learn about supporting your child, your family, and yourself along this journey towards wellness. The Caregiver Program runs concurrently with the Youth IOP and is delivered separately as workshops over the course of the program so that you can progress together.
Program coming soon: Join the waitlist
Sign up to join the waitlist and be alerted when the Youth Mental Health program launches.
Book a consultation today to begin your journey to recovery!