How much does online therapy cost?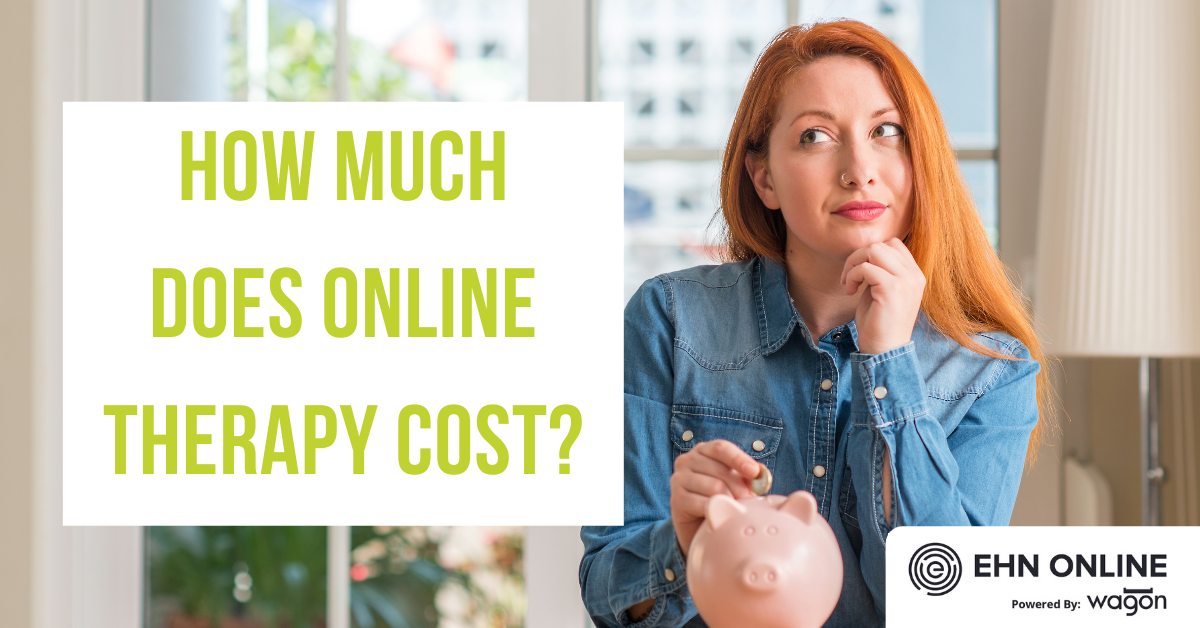 Online therapy is an excellent and convenient way to access mental health support. Even though it may seem that online therapy is a relatively new development, virtual therapy has existed in many forms for years. Over the past year and a half, with the COVID-19 pandemic, online therapy has grown even more popular, with most therapists and programs switching from in-person to an online format. Upon making the switch, many therapists, and their clients, found that online therapy offered several benefits. Aside from being more accessible, online therapy can also be a more affordable option than in-person treatment. If you are considering therapy, learning about the costs of online options can be a great start.
What is Online Therapy?
Individual Therapy
Online therapy can take many different forms. Traditionally, when we think of therapy, the image that comes to mind is one of individual counselling, where a therapist talks to a single patient, face-to-face in an office setting. Individual counselling is a popular and proven form of therapy that can, fortunately, be replicated quite easily over the phone through a secure online platform.
Through teletherapy or video therapy, you will meet with a therapist on a call or video call and talk to them for a set amount of time. The platform your therapist chooses will be both secure and private. You can work through any issues you are having and learn coping mechanisms just as you would in person.
While an in-person session can typically run anywhere from $100-200 per appointment, there may be a slight decrease in cost if this session takes place virtually. This can be due to fewer operating costs for the therapists or if your individual
In a treatment plan like this, you may do online counselling in both a group and individual setting for a set period of weeks, as well as have other accountability tools at your disposal like an app and continued access to clinicians. Because it is , the cost breakdown works out to less than if you were to seek out all the elements of the program individually. For example, the cost of a one-hour individual counselling session becomes less than as part of an IOP, while a single session with an independent therapist might run around $150 per hour.
Group Therapy
Online group therapy is a form of psychotherapy in which one or two therapists work with several clients at the same time. Therapy groups typically have up to 12 members and meet for one or more hours, weekly. The therapists guide the group process and provide structure. Groups may be open or closed. In an open group, members may join at any time, while a closed group has a set start and end date (like in an IOP).
Often, community support can take the form of group therapy. Online community support is often less expensive or free to use but may not provide the amount of guidance or support on its own that you need to fully recover.
Text Therapy
With advances in technology, teletherapy now extends to texting as well. Text therapy services generally operate through a platform that will match you with a therapist who can offer the kind of support you need. Once you have a therapist, you can start sending messages detailing what you want to work through. Text therapy is often priced at a monthly rate and can be much cheaper.
It is also important to keep in mind that even if the cost of the service is the same price online, you might be saving in other ways. Consider and factor in your travel costs or what you might save in childcare if you are doing therapy from home.
Is Online Therapy Worth It?
The short answer is yes. While internet-based therapy might seem like a rather new offering, as mentioned above, it's been around for quite some time and improvements in technology have only made the practice more secure, easier to navigate, and optimal. There is already strong evidence that online therapy is as effective as in-person treatment. A trial in the Journal of Effective Disorders found that "internet-based intervention for depression is equally beneficial to regular face-to-face therapy. However, more long-term efficacy, indicated by continued symptom reduction three months after treatment, could only be found for the online group."1 In another meta-review of apps for anxiety and depression, researchers found that apps "hold great promise with clear clinical advantages, either as stand-alone self-management or as adjunctive treatments."2
You may also find that online therapy works best for your lifestyle. It provides access to services you may not otherwise have in your local area and allows you to work on yourself from the comfort of your home. For those who deal with social anxiety, online therapy has been found to be "effective for reducing the symptoms of social anxiety disorder" without the triggering symptoms of face-to-face, which may lead some to avoid or quit treatment.3 Increasingly, smartphone-based options, like apps, are being taken up by organizations like universities to support student mental health.
With a rise in mental health related issues this past year, online and teletherapy helped to increase the capacity for care and aided many individuals to stay on track and continue to make progress with their therapeutic goals.
Do Insurance Providers Cover Online Therapy?
While many insurance providers do cover some forms of online therapy, it is always best to check with your provider directly to ensure you know what is included in your plan. Often, whether you are covered or not depends on the credentials of the therapist. Make sure to check with the therapist or program you are interested in to confirm what they are certified in so you can give your insurance provider as much information as possible before investing in a service.
If your insurance providers do not provide coverage, investigate charities that run programs or will help you to fund your therapy. There is more support out there than you might imagine.
How Much Should You Expect to Pay for an Online Therapy Program?
The most important thing to keep in mind when considering cost is to think about what is going to be most effective for you. While some services may cost less, they may not be what you need to recover. Going for the cheaper option, instead of the right option, will not only lead to delayed recovery, but money and time wasted.
Something like an IOP may seem like a larger investment, but when you break down the services and amount of hours you are getting, the value for the cost is greater than the average price of a therapy session or standalone text service. It is useful to always consider the cost against the amount and quality of service.
The cost of EHN Online's IOP works out to $38/hr for 173 hours of treatment at a bundled price. If you were to choose everything the program offers in a self-directed manner, you would end up paying almost twice the price. Therefore, an IOP may be the best option.
All in all, online therapy is a great way to get help for less money and easier accessibility. Prices range, but there are options like insurance and charities that can help. No matter which option, or combination of options you choose, the aims remain the same. Online therapy, like in person therapy, is there to help you relieve distress through discussing and expressing feelings; helping to change attitudes and habits that may be unhelpful, and promoting more constructive ways of coping.
Be prepared for conversations surrounding mental health. Contact us today to learn how EHN can help.
References
Lecomte, T., Potvin, S., Corbière, M., Guay, S., Samson, C., Cloutier, B., Francoeur, A., Pennou, A., & Khazaal, Y. (2020). Mobile Apps for Mental Health Issues: Meta-Review of Meta-Analyses. JMIR MHealth and UHealth, 8(5), e17458. https://doi.org/10.2196/17458
"Internet-based versus face-to-face cognitive-behavioral intervention for depression: A randomized controlled non-inferiority trial." Journal of Affective Disorders, Volumes 152–154, January 2014, Pages 113-121. https://www.sciencedirect.com/science/article/abs/pii/S0165032713005120?via%3Dihub
McCall HC, Helgadottir FD, Menzies RG, Hadjistavropoulos HD, Chen FS. Evaluating a Web-Based Social Anxiety Intervention Among Community Users: Analysis of Real-World Data. J Med Internet Res. 2019;21(1):e11566. doi:10.2196/11566