The parent's guide to teenage depression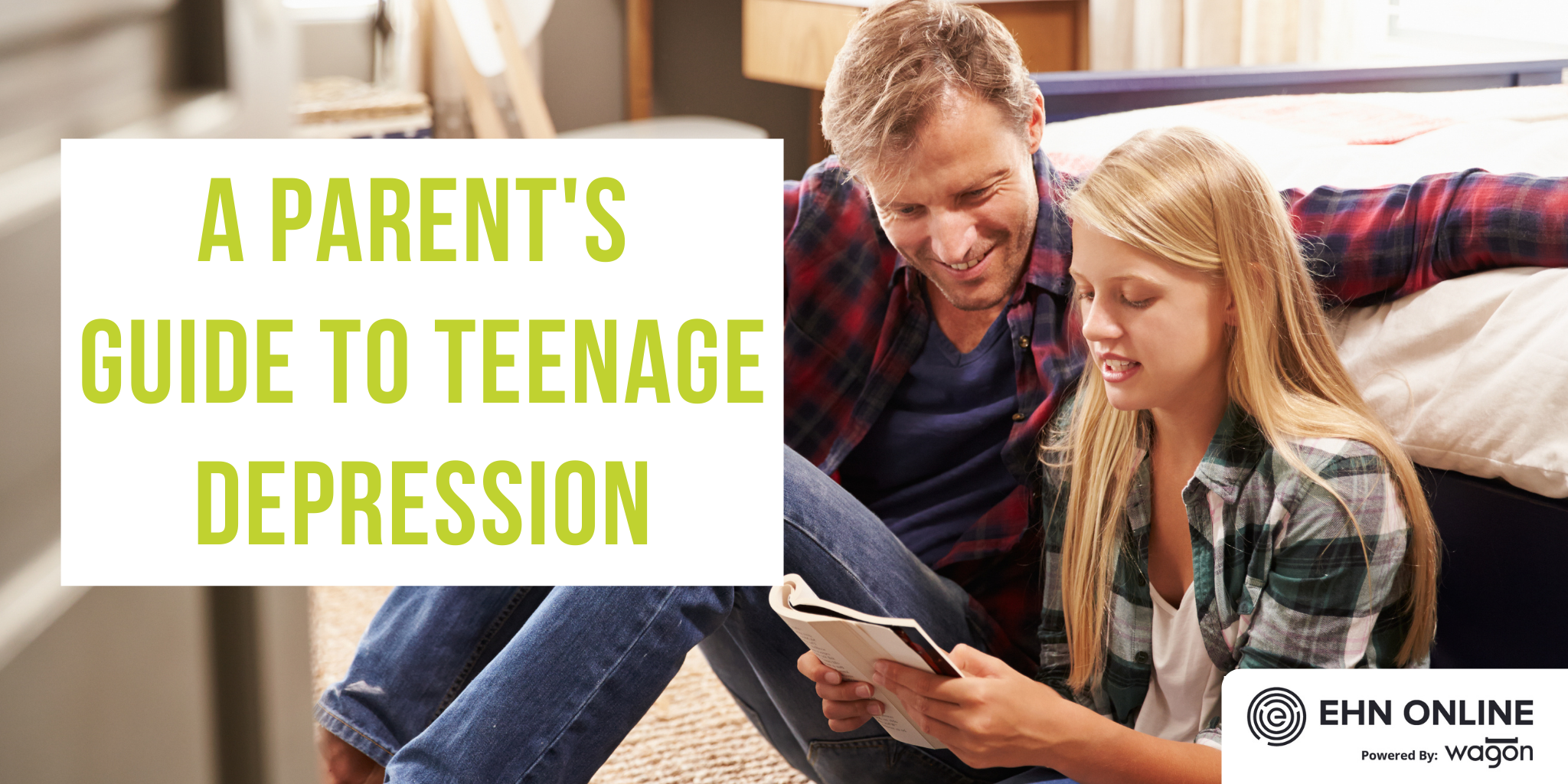 Teenage years can be difficult. Adolescents are dealing with changes to their bodies, social circumstances, and the pressures that come with rapidly approaching adulthood. Along with the added pressures of social media, it's unsurprising that an estimated one in five teens experience depression.1 What is surprising is that even though depression amongst teens is well documented and common, many teens never receive help. One reason for this is that it can be hard to know the difference between regular teenage moodiness and depression. It's even harder to know what to do about it.
If you suspect your teen may be depressed or facing another mental health issue, the sooner they receive help, the better their outcomes for recovery. That said, with so much stigma still surrounding mental health and the challenges associated with identifying depression in teens, parents are often left unsure about where to begin. Rest assured that there is information and resources to help you navigate this time.
We recently spoke with Dayna Browne, the youth team lead and counsellor for EHN's Healthy Minds Comprehensive Teen Program, to get her expert opinion on this topic. You can watch our video with her below.
What is teenage depression? How is it different from depression in adults?
Whether talking about adult or teen depression, there are several signs and symptoms that indicate someone may be suffering. A person does not have to display all symptoms from the following list to be considered depressed, but it is important to consider how long symptoms last for. Someone experiencing even a few signs for most of the day, nearly every day, for at least two weeks may be suffering from depression.
Signs to look for include:
Persistent sad, anxious, or "empty" mood
Feelings of hopelessness or pessimism
Irritability
Feelings of guilt and worthlessness
Loss of interest or pleasure in hobbies and activities
Fatigue or decreased energy
Moving or talking more slowly
Feeling restless or having trouble sitting still
Difficulty concentrating, remembering, or making decisions
Difficulty sleeping, early-morning awakening, or oversleeping
Appetite and/or weight changes
Thoughts of death or suicide, or suicide attempts
Aches or pains, headaches, cramps, or digestive problems without a clear physical cause and/or that do not ease with treatment2
While depression in teens can present in the same way it does in adults, there can be some differences. In speaking to us, Browne said, "Teenage depression is really no different than adult depression, but I do want to really highlight and emphasize that in young people, it can manifest quite differently."
Along with different triggers and causes, there are several symptoms that are more common in teenagers than adults:
Irritable or angry moods: While depression is often characterized depression by sadness, irritability is often the predominant mood in depressed teens. They may be grumpy, hostile, easily frustrated, or quick to anger.
Body aches and pains: Depressed teens frequently report physical ailments such as headaches or stomachaches. While these symptoms could be caused by a physical illness, if a doctor can find no other cause, don't rule out depression.
Sensitivity to criticism: A predominant feeling for many teens experiencing depression is worthlessness, increasing their vulnerability to criticism, rejection, and failure. This is why understanding how to talk to a teen is so important. Browne emphasizes a nonjudgmental and open-ended approach when speaking to teenagers.
Withdrawing from people: Much like adults who tend to isolate when depressed, teenagers may socialize less than before, pull away from their families, hang out with a new social circle or spend time with fewer friends.1
Is this depression or just teenage moodiness?
There are a few factors parents can look for to distinguish between depression and an everyday bad mood, but namely it helps to consider two things: duration and persistence.
It's likely that throughout our teenage years, we all will experience many symptoms of depression at some time or the other. That's just one of the joys of puberty. But when the depressive symptoms persist for weeks, parents should consider other more serious causes.
"The things that parents should really watch out for again is persistent and considerable changes in a youth's functioning and behaviour. Specifically, so that it interferes with everyday activities that are required, or things that the youth would typically participate in or do." Browne notes.
She also adds that two weeks is a good length of time to see if symptoms persist and judge if a teen may be experiencing more than just a bad mood.
What causes depression in teens?
Much like how adult and teenage depression may manifest in different ways, teens are facing a unique set of challenges at this phase in their life that contribute to their mental state.
Browne notes "In terms of the reason or the underlying factors [for teenage depression], sometimes it's biological chemistry. We know that depression has to do with neurotransmitters and other predispositions, however in youth, there could be other sorts of significant triggering events for a young person, something like the loss of a loved one, breakup, friendship and peer difficulties… as well as bullying and other stressors can really impact a youth's depression level."
She adds that all these factors can just become too much to handle.
"I think all of these things [triggers] can really cause a sort of spiral in depressive symptoms, and so these are some of the factors we consider when we're assessing and treating depression in youth."
Browne's comments are supported by Stanford Children's Health, who report that teens face difficulties that they're ill-equipped to handle emotionally. By nature, they feel powerless against these situations.3
Aside from life events and family history, other factors that play a role in causing depression include social environment, medical conditions, and negative thought patterns. Other possible triggers for teen depression are learning disabilities that make academic success difficult, hormonal changes affecting mood, and physical illness.
How to talk to a depressed teenager
Parents have an opportunity to create a safe space for their teen to discuss their mental health, or even just to feel comfortable with themselves and their thoughts. One of the key aspects to keeping communication open is to ensure you are actively listening instead of lecturing. If your teen comes to you with mental health concerns, offer them a safe space by taking their worries seriously and acknowledging their feelings without judgement.
As a parent, don't worry about having all the answers right away.4 This can be an opportunity to ask open ended questions and learn together without preconceived notions about what your child is experiencing. Like anyone else, sometimes all a teenager wants is to be heard and validated.
As many teens may be reluctant to reach out to their parents for help, it often rests on the parent to open the dialogue. Let them know you've noticed a change and want to check in and see if they're alright.
Once your teen has communicated that they're struggling, keeping an ongoing dialogue and addressing what can be done is important. This could include asking your teen what they need. They might already have a good idea of the next steps they'd like to take. If not, you can work together to find a logical next step that they are comfortable with.
It can be difficult for some teens to talk with their parents about certain subjects, so offer additional places and people where they can go to seek support, such as a school counsellor, another family member, a local mental health or youth organization, a website, or a phone line.4
Talking to a healthcare professional is also a great thing to do. Visit your family doctor so they can assess the situation and refer your teen to specialized mental health services, if needed.
Ways to help your depressed teen
There are several ways you can help your teen if they're struggling. Many of those ways are connected to self-care and total wellness and can be easy to implement at home.
"We want to ensure they're eating well, sleeping well, hygiene, all the normal things. When we take care of our body, we know it's directly connected to mental health, so we want to ensure that parents are supporting their youths doing that," Browne adds.
Physical activity is also very important. Aerobic exercise, walking, yoga, or other meditative practices release positive chemicals in the brain that effect mood. Because many of these activities can be done socially, they support the need for interconnected interactions and feelings of love and support.
Parents can also support consistency with scheduling and routine that can help a teen who is having trouble regulating their internal state. Ensuring families are eating dinner together at the same time in the evenings, having scheduled time for homework, and boundaries in place around social media can all help with mood.
Finally, in a time of increased stress, ensuring teens have time for fun and relaxation is key.
If you believe your teen could benefit from outside help, don't be afraid to seek it. It's always better to address the problem earlier rather than later. If you notice symptoms like decreased energy, irritability, and sadness persisting for weeks, it is time to explore some options. This might mean contacting your child's school, talking to a healthcare professional, going to therapy, or seeking community support. No matter what, as your teen's advocate, it's up to parents to take an active role.
Remember that you are not alone
Teenage years are exciting but also challenging times. It is important to keep in mind, particularly on difficult days, that teen depression is common and can be treated. Addressing signs of a mental illness early on helps people to learn coping strategies and better communication skills, which they can take into adulthood for more well balanced and healthy lives.
If you are worried about your teen and think a community program would be a good fit, look into the virtual Healthy Minds Comprehensive Teen Program at EHN Online. As an online therapeutic program for teens struggling with mood or anxiety disorders such as depression and anxiety, the program works to help teens manage or alleviate their symptoms. This is done through evidence-based therapies from trained clinicians as well as practical approaches to help them cope with their day to day. The program is customized to meet the interests and schedules of teens, as it does not interfere with their school schedule and has built in elements (like the Wagon app) geared towards their age. If you would like more information around the program, contact us to learn more.
Teenage mental health impacts parents as well. It is common to worry about whether you are providing the right type of and amount of support to your child. By taking the time to learn about teenage depression, you are already on the right track. For those who would like to increase their knowledge of mental health and practice useful skills, to further support your teen, the Healthy Minds Comprehensive Teen Program includes multiple caregiver sessions. These three-hour sessions are based in emotion-focused therapy (EFT) to help caregivers foster a healthy, informed, and supportive environment for their teens to grow.
Remember that your teen, even though they may not currently be displaying the more positive or loving aspects of their personality, is still very much the child you know and love. They deserve to have the best care and support possible to recover from the very real struggles they are currently facing.
Resources
1 Smith, M., Reid, S., Sega, J., & Robinson, L. (n.d.). Parent's Guide to Teen Depression. Https://Www.Helpguide.Org. Retrieved October 26, 2021, from https://www.helpguide.org/articles/depression/parents-guide-to-teen-depression.htm
2 NIMH » Depression. (n.d.). Retrieved October 26, 2021, from https://www.nimh.nih.gov/health/topics/depression
3 Stanford Children's Health. (n.d.). Retrieved October 26, 2021, from https://www.stanfordchildrens.org/en/topic/default?id=understanding-teenage-depression-1-2220
4 Talking to Teens About Mental Health. (n.d.). Retrieved October 26, 2021, from https://cmha.bc.ca/documents/talking-to-teens-about-mental-health/